Obituary for Bertha Lee Holloway
When Bertha Lee, the third child of Fred and Anna Jefferson, was born, the Great Depression was heading into its third year. Fred, the youngest of his mother Rene's eight children, had worked at the grocery store owned by his sister Lucille and her husband at the time. Every New Year's Day Fred and Anna would host dinner, bringing together all their relatives. Bertha would eat so much food she had to take baking soda to settle her stomach. At a time when many Clevelanders struggled to feed their families, the Jeffersons always had enough to eat. That determination and resourcefulness, along with a deep devotion to family and faith, would stand Bertha in good stead throughout a long life filled with many hills and valleys.
Fred and Anna insisted that all their children finish high school. Bertha graduated from John Hay High School. As a young woman, she enjoyed dancing and participated in a dance troupe.
Over the next 50-plus years, she would work a variety of jobs, including as a nurse's aide at a hospital, as a clerk at Central National Bank and as a clerk at the post office. After retiring in 1993, she traveled to places as far-flung as Alaska and Hawaii. She belonged to a bowling league, went fishing, made ceramic art, and volunteered at Christ the King Catholic Church.
Family was always one of Bertha's primary touchstones. Besides being a devoted daughter and sister, she was also a loving wife and mother. Limited income was no excuse: If there was an affordable way to provide music lessons or exposure to museums and summer camps, she found it. If there was no way, she made a way. That resourcefulness, combined with sheer grit, ensured that those she loved always had what they needed.
("If you want to have a life that is worth living, a life that expresses your deepest feelings and emotions and cares and dreams, you have to fight for it." – Alice Walker)
Bertha was privileged to witness – and participate in – the societal changes that opened the doors of opportunity to future generations. In the 1960s, she marched alongside Dr. Martin Luther King Jr. to push for better job opportunities and housing conditions for black Clevelanders. For her, "family" included not only those of her own blood but others as well.
In the late 1970s, after deciding that "we can't keep seeing each other only at funerals," she helped to organize the first of several Jefferson-Moore family reunions, which for the first time brought many of Rene Jefferson's descendants under the same roof. She helped them see just how vast and diverse the family tree was.
("The fact is that when you do something from the heart, you leave a heart print." – Alice Walker)
She was a generous, giving, loving spirit, who strongly believed in caring for others. At various times in her life, she invited people in need to live with her and her family. People always felt welcome at her home, even when that home was a tiny 3rd-floor apartment in the St. Augustine Towers. Even in her weakened state, she demonstrated enough spirit to earn her the nickname "Firecracker" from the staff. Despite repeated attempts by her children to get her to donate or give away her belongings, she still managed to hold onto a lot: plants thriving on the windowsill, record albums, DVDs from the library, and many pictures of and cards from friends and family. All of these little things were reminders of a long life well lived.
Her other primary touchstone was her Catholic faith. She often testified about how God had brought her through the challenges of life. Towards the end, she reflected on Jesus and expressed a longing to meet Him. On September 9, one week shy of her 87th birthday, she joined her parents, Fred and Anna, her brother, Fred Jr., and her sister, Edna, in eternal rest.
("My Father's house has many rooms; if that were not so, would I have told you that I am going there to prepare a place for you? And if I go and prepare a place for you, I will come back and take you to be with me that you also may be where I am. You know the way to the place where I am going." – John 14:2-4 (NIV))
She will forever be remembered with love by those who remain: her children, Elaine (Bryant Sr) Johnson, Sabuur Abdul-Kareem, Catherine Forbes, and Camille (Tony) Chatman; her stepdaughter, Gina Holloway; her grandchildren, Michael, Bryant Jr, LaTosha, Matthew, Charles, and Joseph; her nine great-grandchildren; her sister, Helen Burney; her brothers, Thomas Jefferson, Daniel Jefferson, and William (Gloria) Jefferson, and numerous nieces, nephews, cousins, and friends.
To send flowers or a remembrance gift to the family of Bertha Lee Holloway, please visit our Tribute Store.
Previous Events
Memorial Service
Watson's Funeral Home
10913 Superior Ave.
Cleveland , OH 44106
In Lieu of Flowers, the family requests donations are made to: St. Adalbert - Our Lady of the Blessed Sacrament Catholic Parish & School 2347 East 83rd Street Cleveland, Ohio 44104
Cemetery Details
Location
Lake View Cemetery
12316 Euclid Avenue
Cleveland, Ohio 44106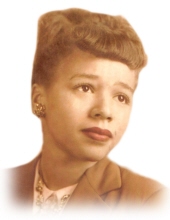 Thank you for sharing your
memory of Bertha
Provide comfort by sending fresh
flowers from our local florist.
No thanks, please don't show me this again.